Architecture technical drawings help to create a detailed planned of any form of structure that is either added onto your home or even used to build a completely new building. They are a great way of preparing for your project to ensure that everything runs smoothly and efficiently so that the end result looks exactly how you envisioned it. These drawings can be used for the following construction projects:
Loft Conversion
Garage Conversion
Conservtory
New Builds
Extensions
Renovations
Architecture Technical Drawing: All You Need To Know
When planning a construction project with Clarkson Builders in Newport Pagnell and the surrounding areas, it is important to make sure that you have a detailed architectural drawing that gives you an insight into what the final product will look like and where you may want to make changes. By having a drawing, you are not committing to work on your home, and it's a great way to reconsider your options if the drawing isn't quite what you expected. You can find out more about the benefits and drawbacks of extending with our previous article title 'is it better to move house or extend'. There are also a number of benefits and reasons why you should have architecture technical drawing and here are just a few.
Get To Know Architectural Drawings
In simple terms, an architectural drawing for home renovations and new builds is a representation of what the final product will look like as well as providing information on how to achieve it. Drawings will include dimensional information and placement of fixtures such as doors, windows, plug sockets, and in the case of bathrooms, showers and toilets. You can find out more about architectural drawings, where they come from and their functions on Career Trend.
Architectural drawings have transformed into multiple different types of planning processes to help provide a basis in which every element of the project is measured and detailed for both you and the construction team. Whether you are wanting more room in your home or would like to transform the interior or exterior completely, you will need some form of architectural drawing. 2D and 3D drawings are now available to give a functional and visual representation of the final product.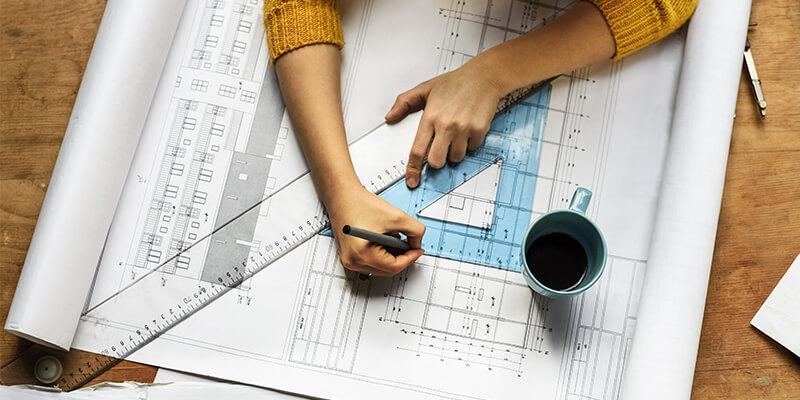 Types of Drawings
When wanting to start a project, regardless of what the project may be, you will most likely have some form of architectural drawing to help with the planning and building process. Depending on what type of project you have, you may need one or more type of architectural drawing. For example, if you are building your own home, you will need a site, floor, elevation and landscape plan, whereas a loft conversion may only need a floor and ceiling plan. To help you know more about the different types of plans and what they are needed for, here are the three most common types of architectural plans for home improvements and new builds.
1. Floor Plans
A lot of home renovations will change the layout, structure and appearance of the inside of your home. With a floor plan, you are able to see what your home will look like if there were no ceiling to cover it; this will give you a good idea as to what your home will look like and whether you may want to extend further or make more changes. Floor plans are an essential part of interior design and are probably the most common architectural drawing that you will come across, as it is used within most, if not all projects.
There are also two different types of floor plans which can give you different perspectives to your home. A 2D floor plan will include measurements and dimensions of the space along with door and window locations. You will usually find that a 2D floor plan will be basic yet contain a vast amount of number and spacial information. Before you ask one of our professionals for help with architectural drawings in Woburn Sands and surrounding areas, you can form your own ideas and start to shape your concepts on Home By Me's excellent 2D plan creator.
However, as technology has advanced, so has the way in which floor planning is structured and designed. 3D floor plans give you a realistic perspective of the rooms or extension by placing in lifelike features such as beds, tables and chairs. This gives you an excellent perspective on size and what you will be able to do with the room once the project has been completed. A 3D floor plan may be ideal for those that wish to extend a room and would like to make sure that they are about to fully include all of the features and fixtures that they require. If you have a project in mind, speak to one of our specialist team members today about our exceptional architectural drawing services.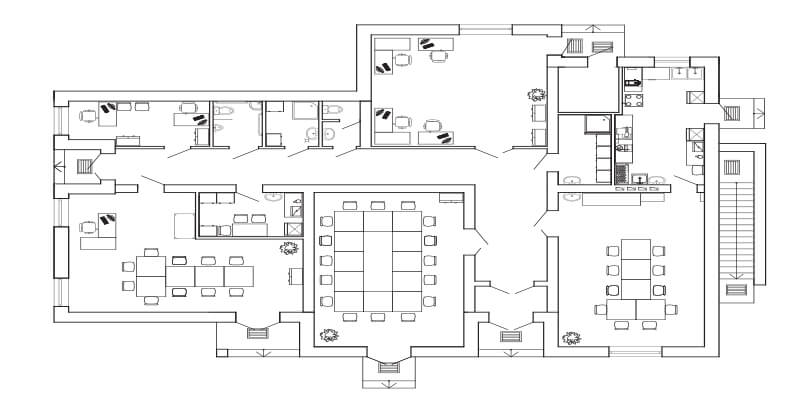 2. Site Plans
Site plans are fairly similar to floor plans in the sense that it provides a detailed drawing of how the extension, conversion or new build will look. However, it offers a full look at each floor side by side, so that you can get an accurate look at how your home will look once the project is completed. This form of architectural drawing is ideal for those that are extending more than one floor of their home or are designing a new build. For example, our professionals often use a site plan for two-storey extensions and new build services to help clients visualise their final project.
Much like the floor plan, you are able to create both 2D and 3D site plans to help give you a detailed perspective of how your home will look. The 2D plan will help you to determine the dimensions and window and doors placements, while the 3D plan offers a design with added furniture to give you an idea of how to design your room once it has been completed. With a site plan, you are able to design a room that suits your requirements, such as one that provides sustainable living. For this reason, it is important to have one so that you can put your needs and requirements into the design process.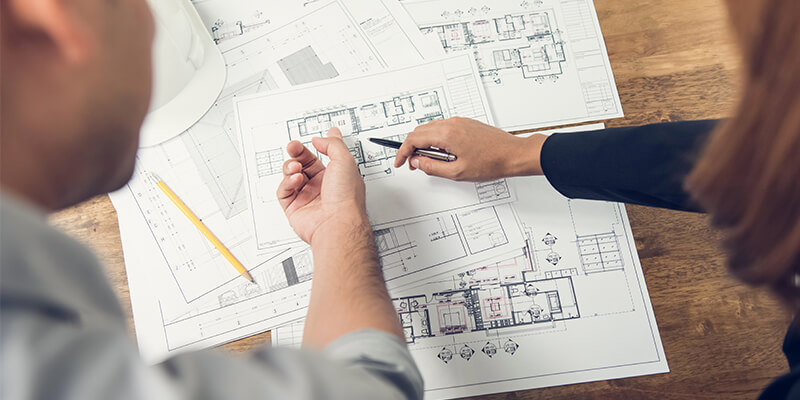 3. Elevation Drawings
Exterior and interior elevation drawings are essential to most home renovations when the appearance of the home either on the outside or inside are being altered. Elevation architectural drawings give you a feel of the room and idea of how your project will transform your home. An exterior elevation drawing is ideal for those constructing a new build, as it is the only basis in which you can view what your home will look like once completed.
While 2D drawings are important for dimensions and location of plug sockets and doors, 3D drawings are essential for new builds as they formulate a visual representation. Not only are they good for the client to rearrange fixtures and design every element of their renovation or new build, but it is also ideal for the construction team as it gives them a detailed plan to follow.
Interior elevation drawings help with multiple elements, whether it is to visualise the room with fixtures or to come up with ideas of how to use the room. For example, with a conversion, you are able to gauge what you would like to use the room for by transforming your 3D drawings into living rooms, kitchens and bathrooms.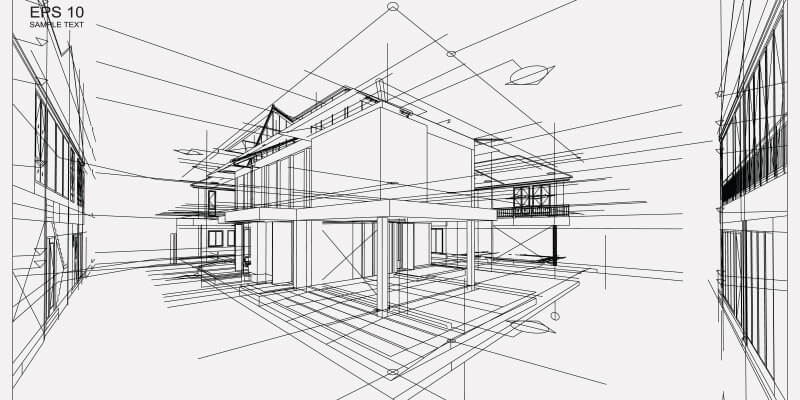 Beneficial Drawings
Having architectural drawings not only helps you visualise your home, but it also has a number of benefits throughout the planning and construction processes. Drawings provide a platform for a calm and stress-free experience, improving your own understanding of the process and keeping everyone informed on the planning and development. Here are just a few of the benefits of having a detailed architectural technical drawing for any home renovation project:
Enhances communication – you are able to communicate to your contractors and designers what your needs and requirements are so that they can transform your home to suit you and your family.
Improves quality – the more drawing plans that you have, the better your own, and the construction teams understanding of the overall project and aimed end result.
Provide solutions – architectural drawings will highlight all of the problems that need fixing and can help to provide a solution to these problems before the construction is begun.
Choosing materials – once you have a design and plan, you can choose the right materials for the job, being more economical and providing the best quality for your home.
Helps planning permission – when altering the exterior of your home, and in some cases, the interior, architectural drawings can help with the process of gaining planning permission.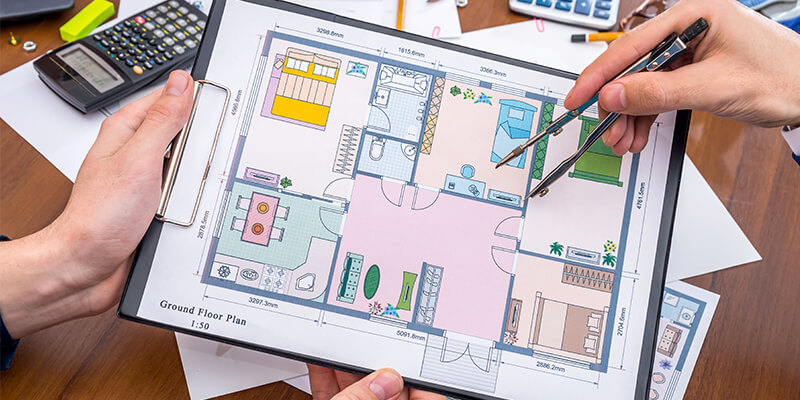 Plan Your Dream Home
Whether you have an extension in mind or are starting from scratch with a new build, it is important to make sure that you have a professional architect that can help you to create your dream home. Drawing the designs and plans for your home renovation is the first stepping stone on the way to your aspired space. If you are looking for conversions or home extensions in Buckingham or the surrounding area, please don't hesitate to contact the team today about our architectural services.