Whether you've recently purchased your first house and are filled with exciting visions to transform your space, or are living in your 'forever home' but hoping for some small upgrades, there are plenty of different ways to spruce up your property. Although some renovation ideas do come with a hefty price tag, there are others that can make a world of difference while keeping costs down.
Renovation Ideas To Consider
Opting to participate in home renovations during the Winter months is ideal. While Summer is filled with better, drier weather, it does mean that it becomes the busiest months of the year. Not only will you have to work around holidays, spending hours embarking in physical activity in the heat isn't going to be pleasant either. Winter is often quieter, so you will have extra time to carry out DIY skills in more manageable conditions.
If you're looking for some inspiration on how to give your current home a new lease of life, then we've devised a list of our top home renovation ideas. Some are small, discrete changes and others are a little more complicated, we can guarantee that there will be something for everyone!
1. Build An Extension
Extensions are the perfect option if you feel as if you are beginning to out-grow your home, but want to avoid considering the idea of moving property. The great advantage of an extension is that it can be added to any ground-level section of your home and can be used for the purpose of your choice. You could opt for building a new room such as an office, extra bedroom or playroom for the younger members of the family. Alternatively, an extension can be used to create a more spacious kitchen or living space; the possibilities are endless.
Before beginning the process of building an extension, it is vital to ensure that you have planning permission otherwise you could be faced with an enforcement notice. Not only should you consider planning permission, but also confirm the extension with your neighbours, particularly if you live in a semi-detached or terrace property. Last but not least, always factor in site access to your property. Large vehicles such as trucks, lorries and trailers will also need to be able to reach your property with ease.
2. Add A Conservatory
A conservatory is ideal for helping your property to achieve a more spacious, airy feel and encourages natural light into the home. As house prices continue to skyrocket year on year, similarly to an extension, conservatories allow you to gain extra living space without having to sell up. Adding a conservatory will also work to your advantage if you ever do choose to move on as they are thought to increase your property's value as much as 7%. Although, at first, a figure of 7% doesn't seem too substantial, when you factor this into a home worth £250,000, that's a huge addition of £17,500.
The most popular conservatory style includes full length, floor to ceiling windows that cover the circumference of the space giving you the opportunity to enjoy outdoor living all year round. With the addition of air conditioning and heating, the weather will never stop you from relaxing in your garden.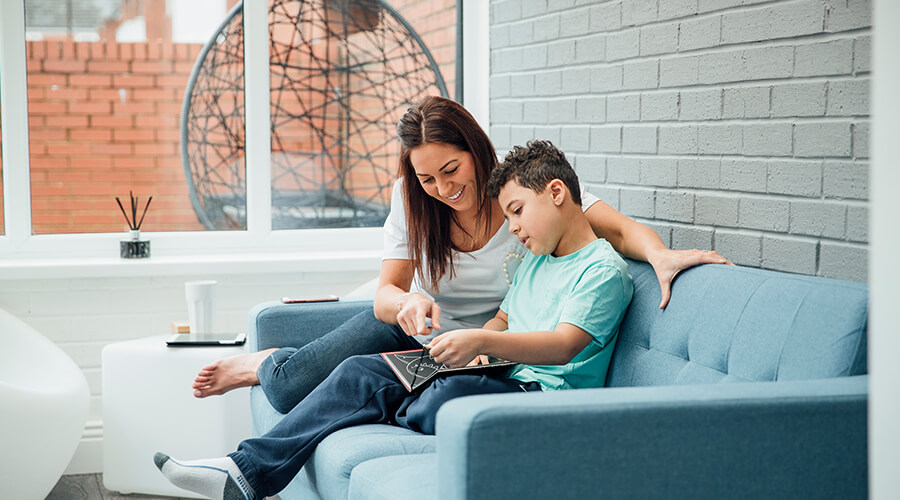 3. Upgrade Lighting
Upgrading the lighting in your home is likely to be one of the most cost-efficient renovation ideas and also works towards reducing energy bills. It is highly recommended when upgrading lighting, if you haven't already, to switch over to LED bulbs. LED bulbs are thought to last up to ten times longer than your average bulb and will take years before they require replacement. They are also made from entirely non-toxic materials and are 100% recyclable, making them considerably more environmentally friendly than their alternatives.
Lighting doesn't have to be limited to just bulbs, why not consider opting for a statement lamp or wall light? A large, contemporary and vibrant lamp can bring a new dimension to a living room or bedroom. We love the collection of light fittings on Dunelm.
4. Replace Windows
Although replacing the windows in your home may, at first, seem like a dull job, you would be surprised the number of different styles available, which can completely transform both the interior and exterior of your property.
Over time, windows do go through an immense amount of wear and tear, forcing them to begin to look unappealing. Rust, cracking and discolouration are all common problems that come with age. However, to ensure that you get the most out of your investment and prolong the lifespan for as long as possible, we suggest opting for uPVC windows. uPVC is a popular material which is both weather resistant and non-corrosive meaning that they are not only durable but will also be looking their best for years to come.
The great advantage of replacing your windows is that there are just so many styles to choose from, all of which can be made using uPVC. We love the idea of using a bay window to create a centrepiece of a lounge area. Bay windows are particularly sought-after for those living in rural areas surrounded by the countryside. If you're looking to replace your windows, we suggest taking a look at Danetre Glass who specialise in windows in Daventry!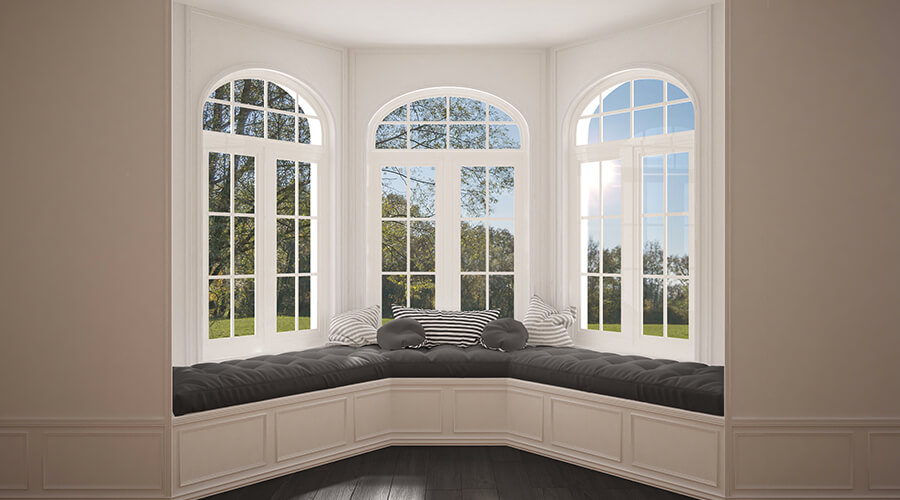 5. Transform A Spare Room
Utilise the free space you have to your advantage and transform your spare room into a unique, stylish space such as a home gym or cinema room. Opting to renovate your spare room is ideal if your children have grown up and moved into their own home; you'll have a lot more extra space available that you want to avoid wasting by filling it with unwanted clutter.
If you have many family members who live a little further afield and are hoping to now host regular guests, then creating a tranquil guest room would be a fantastic idea. Try to keep your guest room as simplistic and clutter-free as possible as not only will it help your guests to feel at home, with less furniture and clutter, the less time it'll take to clean and easier it'll be to keep it tidy. Always ensure that you include basics such as wardrobe space and a dressing table along with clean towels and perhaps even small toiletries.
On the other hand, you may prefer to use your spare room to create a room to help to pursue a hobby such as a gym, library or even craft room. For those fashionistas, you could even transform your room into a walk-in wardrobe and dressing room. For more inspiration on spare bedroom ideas, take a look at this Real Homes article.
6. Kitchen Remodel
A kitchen remodel remains to be an incredibly popular renovation option, particularly for those who have lived in their home for many years and have noticed that their kitchen is starting to become outdated. It is your choice whether you decide to start with a clean slate and completely remodel your kitchen, or alternatively opt for a few updates here and there. Kitchens are filled with complex electrical and water systems and require considerably more expert help than, for example, renovating a spare room. This means that it is important when initially planning, to factor in the extra labour and material costs needed for a fully-functioning, safe kitchen.
Larger kitchens do allow you a lot more leeway when it comes to layout planning and enables you to consider more luxury upgrades such as an island, breakfast bar or stylish seating area ideal for entertaining. That being said, you can still create a modernised smaller kitchen through utilising every free space to your advantage. The tops of cabinets are often wasted space, so consider fitting shelving for pots, pans and dining sets. You could even purchase storage boxes to keep belongings tidy and out of the way. The sides of cabinets can also be used for hanging space for kitchen utensils and allow you to keep the walls clear. There are plenty of handy storage ideas to help you to make the most out of your small kitchen, for more, head over to Kitchn.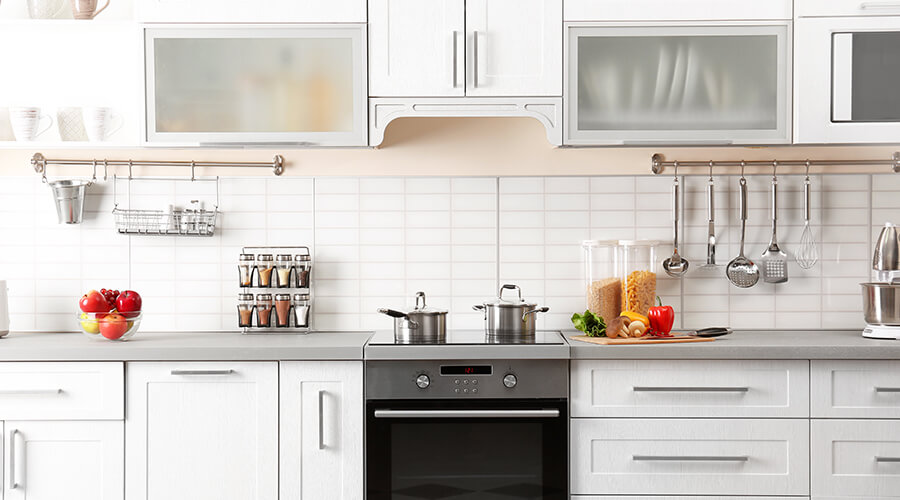 7. New Front Door
Many different signs indicate that you're in need of a new front door. If your door is beginning to crack, warp, rust or simply looks as if it has been through its fair share of wear and tear, you may want to consider a replacement.
Although replacing your front door isn't a huge home renovation, you would be surprised how much of a difference it can make. When researching styles for your new front door, it is vital to consider which would compliment your home best. If you live in a new-build home or apartment, a contemporary, modern door would be ideal. On the other hand, older homes such as a cottage would be best suited to a traditional style. Ensuring that your door ties in perfectly with your property will not only create a positive first impression for visitors, but it'll also make it a more welcoming environment to come home to every day after a long day at work.
Appearance, of course, is a huge contributing factor towards what door style you opt for, but it is also vital to consider both insulation and security. The door is one of the biggest culprits for allowing draughts into the home, which can quickly add up to extra costs on your heating bills. After your new door is fitted, consider adding a draught excluder which runs along the bottom of the door with the addition of a letterbox flap or letterbox brush. Next is security; aim to fit a door that is entirely solid and not hollow on the inside, as not only are they sturdier, but also help to burglar-proof your home and always purchase a door that is capable of double-locking.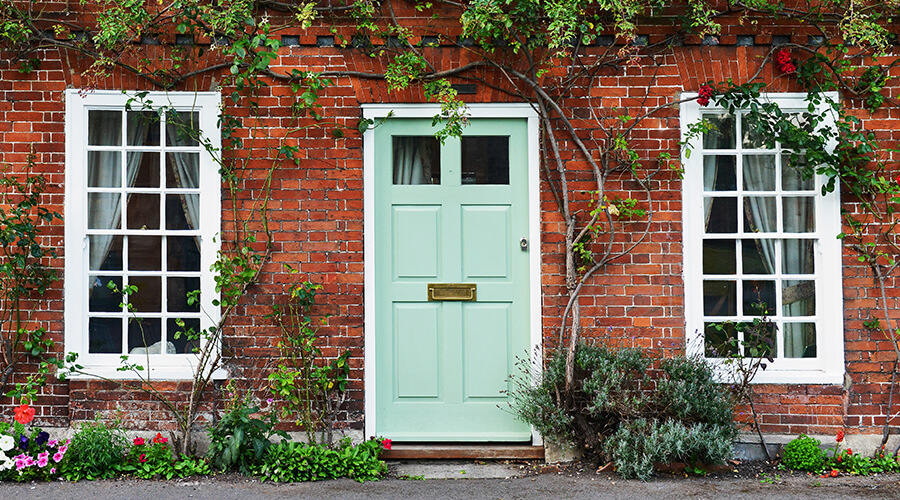 Renovate Your Home Today!
Renovating your home doesn't have to be a dull and tedious job, with a lot of research and a plan of action in mind, renovations can be a quick and easy job. Remember, you do not have to do everything alone, there are professionals who can help you to carry out just about every job. It is often easy to enlist the help of an expert as they will have both the knowledge and equipment to get the job done quickly and problem-free.