If you're considering buying a new home property with the intention of knocking down the building to rebuild it from scratch or are even thinking about knocking down your current home, you've come to the right place. We have put together this article outlining the important things to consider should you have plans to demolish and rebuild a house, be they firm or tentative. From answering the practical questions surrounding such a project to exploring the more subjective ones, this guide to demolishing and rebuilding a home will provide you with all the information you'll need to either consolidate your decision or rethink it.
What's Involved When You Demolish And Rebuild A House?
As highly experienced builders in Newport Pagnell and the surrounding areas, our dedicated team have completed many demolitions and rebuilds, meaning that we are more than qualified to outline what is involved in this particular building project and advise as to whether it is an appropriate option for you and your home. If you find the information in this article helpful and would like to find out more, why not get in touch with one of our team members?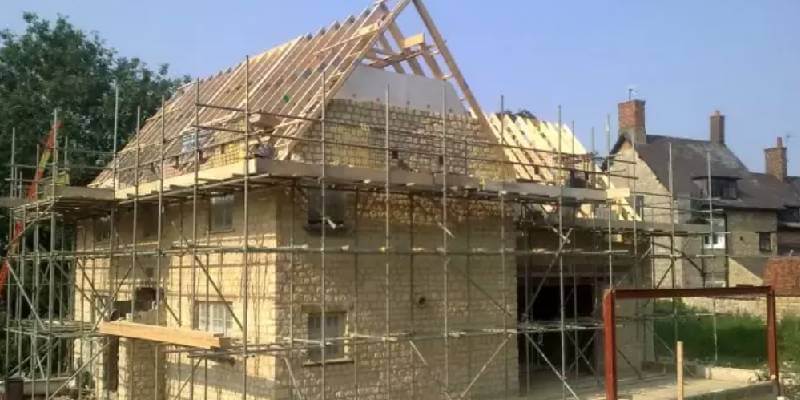 Clarkson Builders Project – Newly Built Stone House
It will come as no surprise to you to learn that demolishing and rebuilding a home is no simple task. In case you're wondering exactly what you will be taking on when you embark on a project like this, we thought we'd provide you with a rough outline of what demolishing and rebuilding a home will entail. This step-by-step guide should help you get started should you decide to go ahead with your plans.
1. Set your budget – by deciding on a budget early and sticking to it, you will avoid unnecessarily driving up the cost of your build and spending more than you wanted to. Ensure that your budget includes a contingency fund of between 10% and 20% on top of what you plan to spend so that you will be prepared in the case of unexpected issues that require you to spend more.
2. Choose reputable traders – the success of your project will lie largely in the hands of the tradespeople that you entrust to carry it out. If you are in need of highly trained and experienced builders in Towcester or one of the surrounding areas, the team at Clarkson Builders are more than happy to help you out. Feel free to contact us today to find out more.
3. Home survey – your home will need to be surveyed before demolition to ensure that it is safe to commence with your plans. This will include the detection of harmful materials such as asbestos.
4. Prepare for demolition – apply for all necessary official permission, agreements, and approvals that you will need to carry out your plans. You should also check whether the home is in a conservation area or listed before you commence with demolition, as this may require you to jump through a few extra hoops. Finally, ensure that all utilities to the old building are capped off before demolition.
5. Demolition – the existing structure on the property will be completely knocked down, and its foundations will be removed. At this point, consider keeping some of the building materials used to construct the old building and reusing them so long as they are salvageable. This is an excellent way to offset the cost of demolition, particularly if the materials are especially valuable, for example, if they are in a certain periodic style.
6. Rebuilding – once demolition is complete, rebuilding can commence, starting with the installation of new foundations. Ensure that your new build house meets regulations surrounding things such as insulation, disabled access and stair gradient. It is also worthwhile to consider installing environmentally-friendly features, such as underfloor heating, which can also be a cost-effective home heating solution in the long run.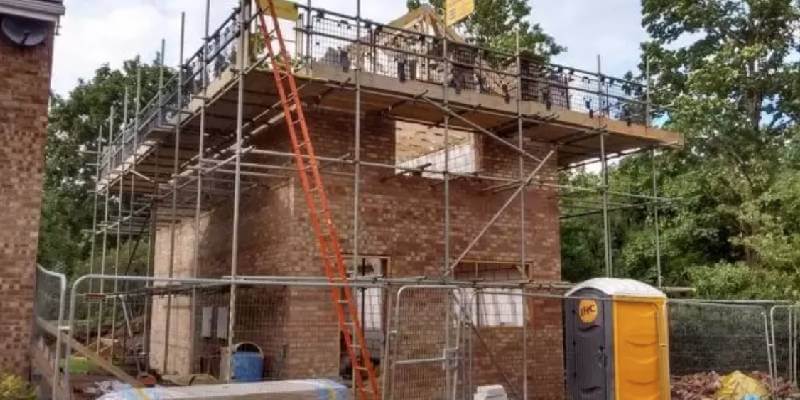 Clarkson Builders Project – Two Bedroom New Build
Whether you purchased your current home many years ago to eventually demolish it to rebuild a new house in its place or are considering buying a house to renovate in the future, this decision is not one to be taken lightly. While there are certainly several benefits to doing this, there are also some drawbacks, so it is essential to consider all of these before making your mind up. This being said, approximately half of people who decide to build their homes themselves from scratch will do so by first demolishing an existing house to make way for their new, self-designed one. This is due to the undeniable advantages of embarking upon such a building project. So, to help you decide whether this is the right route for you, we have outlined both its advantages and disadvantages below.
Advantages Of Demolishing And Rebuilding
Statistically, the advantages of buying a home to demolish and rebuild outweigh the disadvantages for most people who decide to self-build. The main advantages are as follows:
Completely customised build – demolishing and starting your build from scratch enables you to have full control over its design (within reason and budget constraints), which is a desire of many people who choose to self-build.
Location choice – when you intend to demolish and rebuild, you can choose the property you buy based primarily on its location, rather than also having to consider the suitability of the existing living spaces or find a clear, new build plot.
More space – planning policies are such that homes built as replacements after demolition can be significantly larger than the original.
Less tax – rebuilt homes benefit from zero-rated VAT, while extending or renovating an existing building will cost you 20% VAT on materials and labour. Moreover, Community Infrastructure Levy or CIL liabilities apply only to the additional floor space of the new build as compared to the old structure.
Increased home value – a new build home with a modern design and contemporary functionality in a pre-established neighbourhood will likely have greater value than the previous property.
Energy efficiency – the replacement house will likely be built to be far more energy-efficient than the previous structure, saving you money on your energy bills.
Access to essential services – access to water, electricity, drainage systems and other essential services and systems will already be established.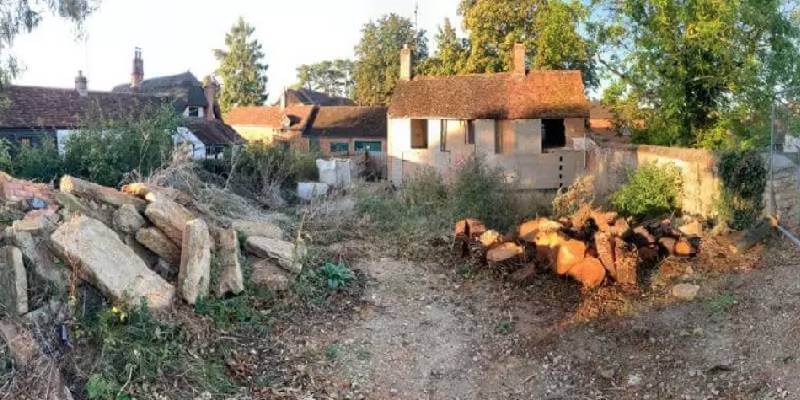 Clarkson Builders Project – Dated Property Rebuild
Disadvantages Of Demolishing And Rebuilding
While the advantages of demolishing and rebuilding a home are certainly appealing, undertaking such a project will naturally come with some drawbacks, which are as follows:
Cost of demolition – while demolition is relatively inexpensive to have done in relation to the rest of the building project, it could still set you back between £8,000 and £15,000.
Environmental impact – the production of steel and cement, materials which are needed to construct a new house, are processes that result in significant carbon emissions.
Loss of historical buildings – Unless the building you are planning to rebuild is beyond salvageable, plans to demolish and replace an older property may upset the community. This could result in obstacles when attempting to commence with your plans.
Need to acquire permission – depending on your plans, you may require official permission or agreements to carry them out.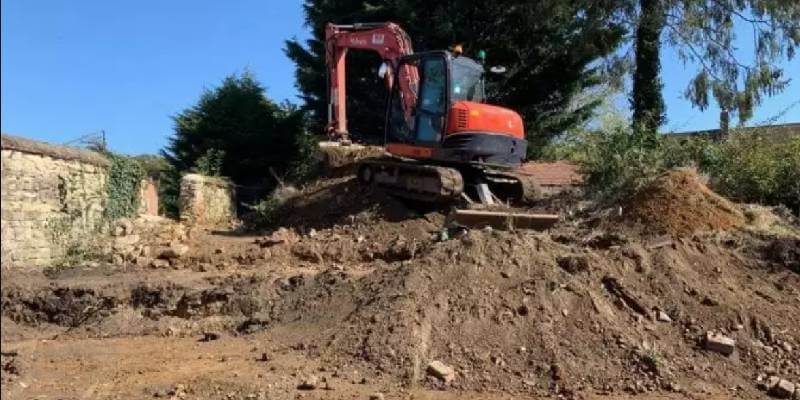 Clarkson Builders Project – Dated Property Rebuild
Here are the answers to some common questions that people have surrounding demolishing and rebuilding:
Is It Worth Demolishing A House And Rebuilding?
We think it is absolutely worth demolishing a house and rebuilding if you have the budget and would like to self-build to create a home that perfectly accommodates your and your family's needs. For the majority of people, the benefits of doing so far outweigh the drawbacks, which is why demolishing and rebuilding is so popular amongst self-builders.
If you do not feel that a rebuild project is the right route for you, alternatives include home renovations such as home extensions, garage conversions and loft conversions. If you are interested in our extensions in Milton Keynes, please do not hesitate to get in touch with our team.
How Much Will It Cost To Demolish And Rebuild A House?
The cost of demolishing and rebuilding a house will depend on numerous factors, including the following:
The size of the original structure
The size, quality and style of the new build
The materials you choose to use for the build
Checkatrade estimates that the cost of demolishing and rebuilding the average three-bedroom home would be between £178,000 and £246,000, depending on factors such as those above. This would include the cost of house surveys, demolition and foundation removal, as well as the actual construction of the new house.
Do You Need Planning Permission To Demolish And Rebuild?
As of August 2020, vacant commercial and residential buildings can be demolished and rebuilt as homes under permitted development, meaning that planning permission is not required. Instead, a prior approval application must be sent to the local planning authority and approved before any building work begins.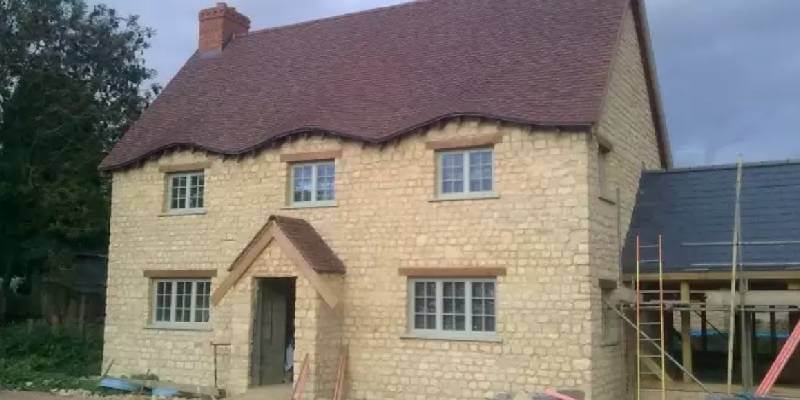 Clarkson Builders Project – Newly Built Stone House
Can I Demolish A House And Rebuild? Our Guide
Whether you have already purchased a property that you intend to demolish and rebuild or are still in the very early planning stages of your project, we hope that our article has helped inform you of not only the stages involved in replacing a house but also the drawbacks and benefits of doing so. If you decide to go ahead with your demolition and rebuild plans, why not get in touch with the team at Clarkson Builders? With many years of experience in completing home building projects ranging from rebuilds to renovations in Milton Keynes and the surrounding areas, we have the expertise necessary to assist you in making your dream home a reality.