When first moving into your property it can feel empty and desolate like a showroom. It's essential that you put your own personalisation on your property and that you know how to make your home cosy for year round comfort.
Tips On How To Make Your Home Cosy
Being comfortable in your own property is key. After a long day at work, all you want to do is come home and lounge around on the sofa or get into bed. If your home feels empty and open, it's going to be hard for you to relax and enjoy your evening.
Most people who haven't personalised their home don't enjoy spending time in their property and are constantly on the go. Although in the upcoming years modernised and smart homes are becoming increasingly popular, it can be challenging to make contemporary homes feel and appear cosy and comfortable.
So if you are currently in the process of moving into a new property, or simply want to make your current home feel more warm and welcoming, then keep reading. We have devised a set of tips for you to follow in order to create the comfiest and most enjoyable atmosphere in your property.
Use Soft Colours In Your Home
When decorating rooms such as the living room or bedrooms where you spend your main time relaxing watching tv or in bed, choose a colour palette that is comforting.
For example, beiges, creams and biscuit tones. These colours give a cosy atmosphere, as well as being dim and relaxing when you want to lay in the dark in the late evenings. White is a clean, bright colour that is typically used in bathrooms and kitchens or home conversions Milton Keynes where people are generally busy doing things. Having a white bedroom is nice, although it can be less relaxing in a bedroom or living room as it's constantly light and airy.
New Furnishings
It's possible we've all experienced the shock of laying or sitting on a cold leather sofa in the mornings – which is definitely not comfortable. Leather has become more and more popular for those with contemporary designed homes, although old worn leather sofas are commonly used in traditional property home design.
Either way, it's not the comfiest material. For the utmost comfort, we recommend a corner sofa, which allows you to curl up and relax with a perfect view of the TV. As well as this, they are often made with materials which are designed with comfort as the number one priority. Although, they do still offer leather corner sofas if this is your preferred material.
It's important to replace your sofa after a certain amount of time. Just like everything, they become worn and if your couch is a material sofa it can harbour bacteria, dust, dirt and grime when not cleaned regularly. So just like you would your mattress, we recommend replacing your sofa every 10 years or so.
If sofas aren't your style, there are plenty of other options. Armchairs, hanging chairs and swivel chairs are all comfortable alternatives if a couch takes up too much space or is too much hassle.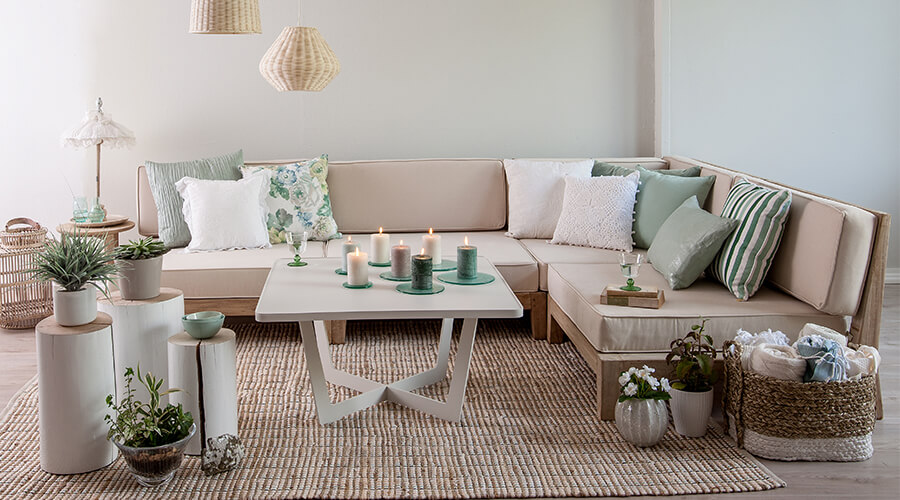 Replace Carpets Or Hard Flooring
It's harder for a property with laminate or wooden flooring to feel comfortable. Especially in cold winter mornings, it can make your home feel colder and emptier.
A soft carpet in your living room, bedroom and upstairs is good at keeping heat in your home, and saves you the problem of walking around with cold feet. Carpet is often favoured over hardwood or laminate floor for its comfortable properties. Although commonly in contemporary properties, hardwood flooring is preferred.
Add Comfort
Like we previously mentioned comfort is the most important aspect of your home. Big puffy cushions, soft blankets and throws can make your living room or bedroom appear cosy and inviting to guests.
If you have leather sofas, dress them up with fluffy throws and cushions to make your sofa comfier and more visually appealing. Remember to keep your general home design in mind when picking pillows and throws; you don't want to mix up the colour schemes as it could imbalance your properties entire design.
If you want a cosy home design, just as we previously mentioned with colour schemes, keep your accessories colourings neutral. Biscuit shades, stone, creams and beiges create a comfortable, welcoming environment for you and your guests.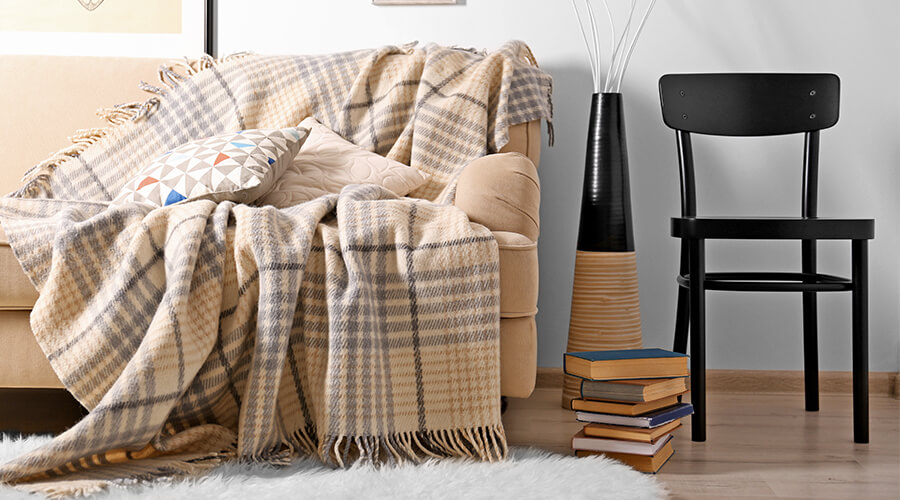 Lighting
Nowadays in most contemporary homes as well as traditional, most properties are filled with bright, blinding LED lighting.
LED lighting is good for the environment and can save you money on your energy bills and are often used for rooms like kitchens and bathrooms. If you want to make your property as relaxing as possible, we would recommend avoiding bright LED lights.
Set the scene with dim lighting, which is fantastic for evenings when you want to relax with light lighting to watch a film. Another option is to install dimmable lighting, which then gives you the control over the brightness of the rooms in your home. We recommend to all of our clients that when they install any new electrical outlets or lighting fixtures in their property that they contact an electrician who can install the fixtures correctly for an affordable price.
If you want to keep your original lighting fixtures but don't like bright lights in the evening. Take a look at table lamps, some of these are dimmable and produce a lower amount of light than your property's lighting. We love these lamps from Ocean Lighting with hundreds of shapes, sizes and styles to choose from.
Make Your House Cosier
Using these top tips, it's simple as well as affordable to make your property cosy. Remember to look online at home designs so that you have an idea of the design idea that you wish to follow.
For more information on any home conversions or architectural drawings Woburn Sands for your property, contact a member of our team today who can help you.
We hope that this article was helpful, if it was then why not share on social media?