Whether you are hoping to sell up and put your home on the market within the next year, or you are fed up of a dull and unwelcoming home exterior, spending time every few years revamping the outside of your home can be incredibly rewarding. Not only does a visually appealing, neat and tidy property create a positive first impression for visitors, but will also instantly improve your mood the moment you arrive home.
When it comes to improving the inside of your home, we are overwhelmed with new, unique interior design trends, but there is often little inspiration for the exterior. So, to get your brain flowing with exciting ideas, we've devised a list of our top tips on how to improve and modernise house exterior.
Top Tips To Modernise House Exterior
Similarly to any form of home improvement, there are both luxury, costly ideas and others that are a little more cost effective. Luckily, a smaller budget doesn't necessarily mean that you have to compromise with half-hearted jobs to fit your price bracket, you can make just enough of an impact with smaller scale improvements here and there. All of our ideas can be completed through both ends of the price scale and can be perfectly tailored to your property.
Front Door Revamp
Your choice in front door colour and style can make or break the exterior of your home, and there are a few essential factors to take into consideration before you opt for a change. A full front door replacement can be booked if you want to add glass panels, or alternatively, you can use your DIY skills and instead give it a fresh lick of paint.
Red, green, black, grey and white are just some of the most common colour choices when it comes to front door options. Always take into consideration the colour of your neighbours doors, along with whether your home is brick, stone or panelled. Your front door withstands its fair share of wear and tear, so must be adequately prepared and painted with a weather resistant paint if you do go down the DIY route. For a full guide on how to paint your front door, head over to Classy Clutter.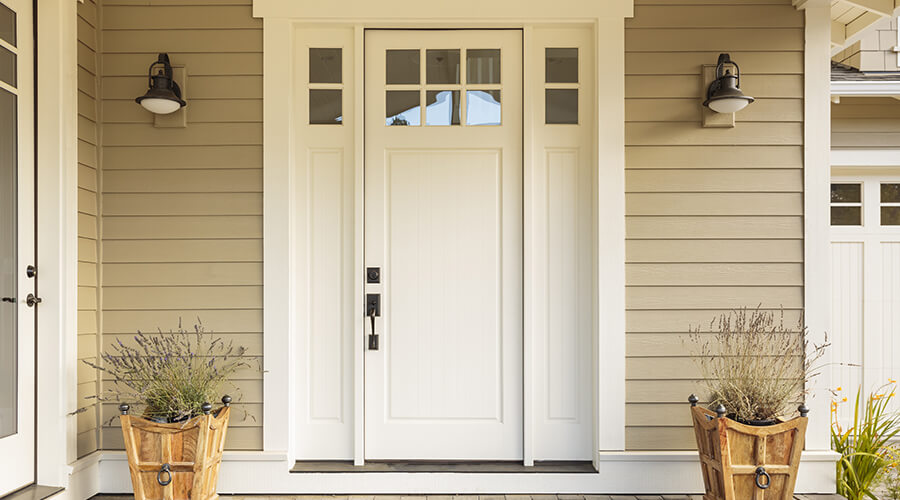 Build A Porch
Building a porch is the most costly of our upgrading ideas, however, is exceptionally effective and dramatically increases the value of your home if you decide to sell up in the future.
Porches are not only fantastic for creating additional storage, but they also create a welcoming and enticing feel. It is an excellent way of adding character to your property and standing out from the crowd, particularly if you are the only home on your neighbourhood to opt for the popular extension.
Expert help from your local, professional builders in Milton Keynes will need to be enlisted to make an extension to your home. They will have the knowledge and skills to ensure that the porch fits seamlessly into the exterior of your home and is a long-term investment that will involve no future issues.
Once your porch is fitted, its time to enjoy your new space. We highly recommend that you keep this area light and airy, using neutral colours and avoiding a buildup of clutter. There is nothing worse than approaching a home to see a porch filled with shoes, bags and jackets! Instead, opt for simple, discrete, multi-purpose storage options such as shoe box seating.
Modernise Lighting
You'd be pleasantly surprised the vast difference that high-quality lighting can make to the exterior of a property. While strolling through large new-build cities such as London, you will notice that the majority of modern homes will have lantern-style lighting fitted either over or either side of their front door. This alone is an excellent way of adding a contemporary touch to your home, not to mention the added visibility at times on the day when it is dark.
The Lighting Company have a fantastic selection of different outdoor lights, for both a traditional and modern style home. Try to steer clear of large, extravagant lights as they can often look out of place and take away from the simple yet effective look.
There are many different types of exterior lighting options available, some more eco-friendly than others. You can opt for a light that uses solar panels, one that is activated by sensors or a generic choice that is manually switched on and off from inside the home.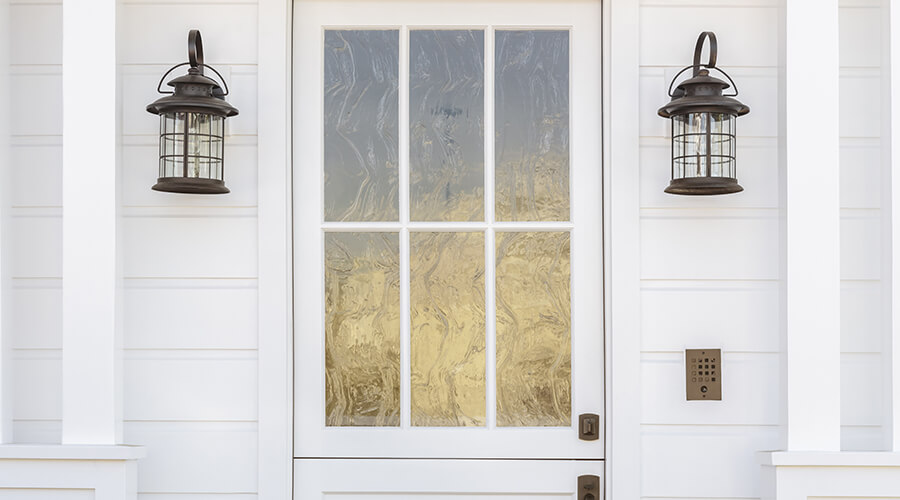 Landscaping
With a busy schedule between work and other commitments, it can often be tricky to find the time to maintain the flowers and plants surrounding the exterior of your home. Front gardens are usually small and edging on either pathways or roads meaning that it is unlikely that you will spend time there. Homeowners are more eager to transform their back garden rather than front simply due to the amount of time they spend there over the warmer months.
Recruiting the help of a team of landscapers is perfect for taking the hassle of maintaining your garden off your shoulders. When you opt for landscape maintenance Milton Keynes, there are a variety of different services to choose from, such as grass cutting, weeding, tree maintenance and even leaf clearances. Along with making the exterior of your home look immaculate and attractive, landscapers can also remove any moss or leaves that are building upon pathways or around your entrance.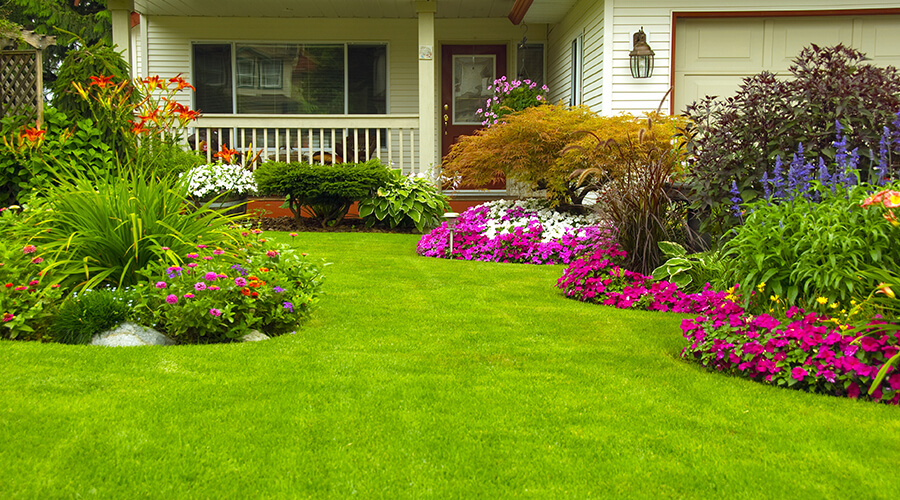 Clean or Replace Windows
Windows frames are prime culprits for collecting moss, mould and rot, which alone, makes your home seem incredibly unappealing. The best way to remove all grime from window frames is to mix vinegar and hot water in the 1:4 ratio and spray onto frames. Leave to soak for up to ten minutes and then all dirt should wipe away.
On the other hand, unfortunately, your windows may need to be replaced altogether to regain the look of your home. If you find it difficult to open or close your windows, you continuously seem to have condensation, or they can no longer block out noise, it is time to look for replacements. For more signs that you need to look into replacing your windows, take a look at this useful PCW article!
Home Name and Number
Lastly, a great way of adding a decorative touch and a vibrant splash of colour to your home is to replace your house name or number that is placed outside your property. Although appearance is important, the primary goal of a name or number is to make it easy to locate your home in a row of the same properties. A thick, clear font in a primary colour is always preferred over a thin, italic font, which may look elegant but is simply not effective. For an extensive range of different house name and number options, take a look at The House Numberplate Company.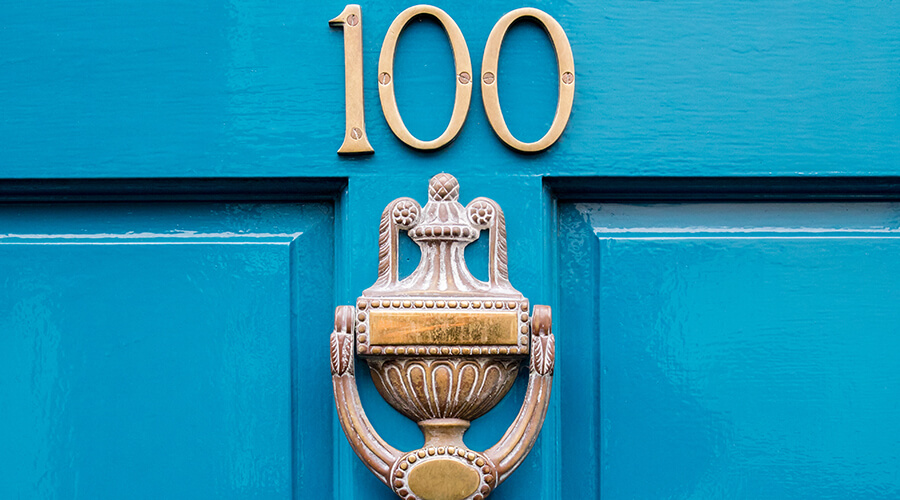 Transform Your Home Exterior Today!
We hope that we have given you some exciting ideas and inspiration on how you can not only improve but also modernise your home. As mentioned previously, you do not need to pay out a huge chunk of money to achieve a revamped outcome, just a little extra work and DIY skills!