As we can now finally see some form of normality returning to life, it's time to start putting your post-lockdown plans into place. Whether you have been working from home, furloughed or on the frontline, quarantine has meant that our free time has been spent lounging around the house. This has given plenty of time to see to the tedious DIY tasks that we've been putting off for months or perhaps begin to plan renovations for after the lockdown. If being stuck between the four walls has inspired you to transform your property and breathe a new lease of life into rooms, then you have come to the right place. We have put together a guide to just some of our favourite home renovation ideas 2020, allowing you to begin creating your dream bedroom while staying on trend!
Our Favourite Home Improvement Ideas 2020
Regardless of whether you have been in your property for many years or have recently moved in, it's fair to say that for every homeowner, it never quite feels as if your property is fully complete. From watching our favourite reality stars show off their lavish homes to scrolling through the beautiful interior design mood boards on Pinterest, we are always being overwhelmed with hundreds of ideas on how we can improve our homes. Even the smallest of upgrades can make a huge difference and what better time to give your home just that little extra TLC than not only when we are spending more time in it, but also a new decade. So, to fuel your creativity, even more, let's take a closer look at these fantastic trends: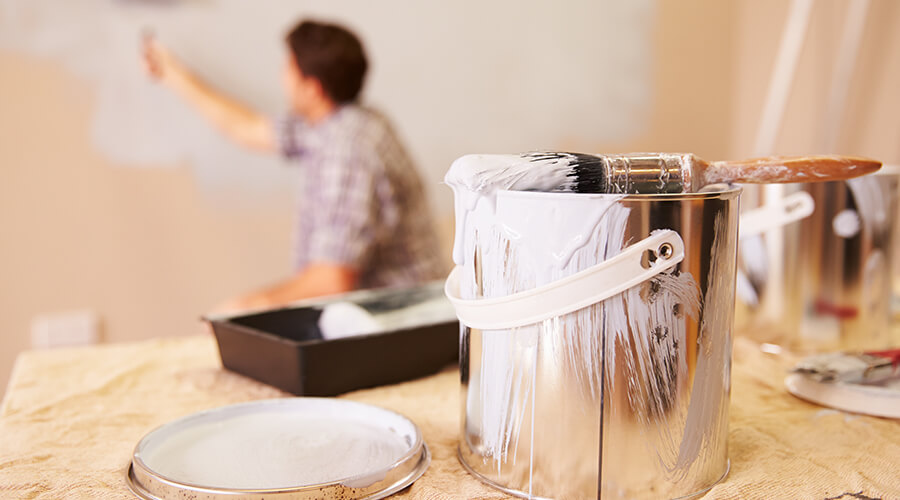 When we think of the term modern kitchens, we think monochromatic colour schemes, muted colours and simplistic aesthetics; however, this most definitely doesn't have to be the case. If you prefer quirkier interior design trends, then you will be pleased to hear that bright and colourful kitchens are making a comeback. Gone are the days where you can only achieve a contemporary appearance through scaling back your design as now, the more vibrant, the better!
It is entirely your choice as to how bold you want to go when incorporating a splash of colour to your kitchen design. If you do not want a complete kitchen refit, then you could opt for sticking with your white foundations, but incorporating small accents of yellow, red or green through the appliances, cupboards or worktops, for example. Alternatively, if you love eye-catching colours but want to keep it toned down a little more, then why not consider a pastel-inspired palette? Blues and pinks are just some of the many gorgeous pastelly, milky hues that look excellent in a kitchen. These not only look clean but also add depth to your space, making it ideal for those who are limited in terms of space.
For those who are feeling brave enough to embrace a complete refit in only bright, colourful shades, then we suggest considering 60-30-10 rule. This is a super easy concept which is widely used in the world of interior design and will help you to balance your colours without overwhelming the space. The rule goes as follows:
60% of the main colour – this can be used for the walls, cupboards or flooring.
30% of the secondary colour – perfect for touches such as dining chairs, appliances and worktops.
10% of your accent colour – use this shade for the accessories including tea towels, storage containers and even artwork.
Once you have determined your favourite colour scheme, then its time to begin planning your renovations and start transforming your kitchen. It is vital to ensure that if you do opt for a refit, then you work with only a reputable, qualified professional. The team at Clarkson Builders have years of experience helping clients to design and build their dream homes. Our extensive portfolio of case studies showcases just some of the exceptional capabilities of our builders in Milton Keynes and the surrounding areas. If you have a project in mind that you need our help with, then please do not hesitate to get in touch!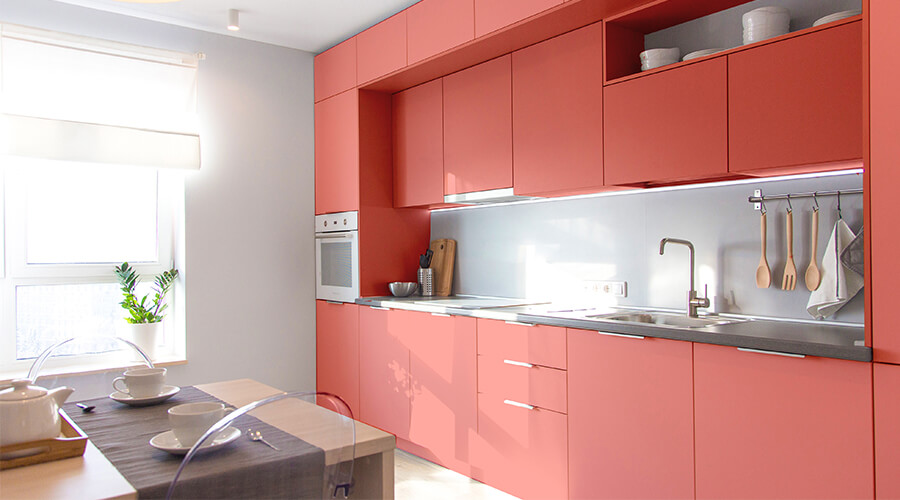 As house prices continue to skyrocket each year and the current climate is making it even harder to get onto the property ladder, it has become incredibly common for the younger generation to spend longer living at home. With this in mind, one of the most popular trends for this year is to renovate homes so that they can accommodate multi-generational living. This is the perfect alternative to moving home as it allows you to maximise living space without the time, money and hassle associated with selling up.
There are several different ways that you can alter your property so that every member of the family has their own room, and it all begins with taking advantage of wasted space. Both lofts and if you have one, basements, are both ideal for converting into another bedroom or perhaps a second living room. They are areas of the home that would otherwise be used to hoard old belongings and clutter, yet transform into a spacious area that could even be paired with an en-suite.
While lofts and basements are the most common rooms to convert, they may not always be convenient if you do use them as your main storage area. In this instance, an extension would be a fantastic choice as the only space that you will need to sacrifice is land either at the front or rear of your property. An extension also means that you can design the room from scratch, incorporating as many unique features as you wish. Homebuilding & Renovating has put together a helpful guide, including everything that you need to know about building an extension. Alternatively, if you are interested in an extension or conversion in Buckingham and the surrounding areas, then our team are always more than happy to help!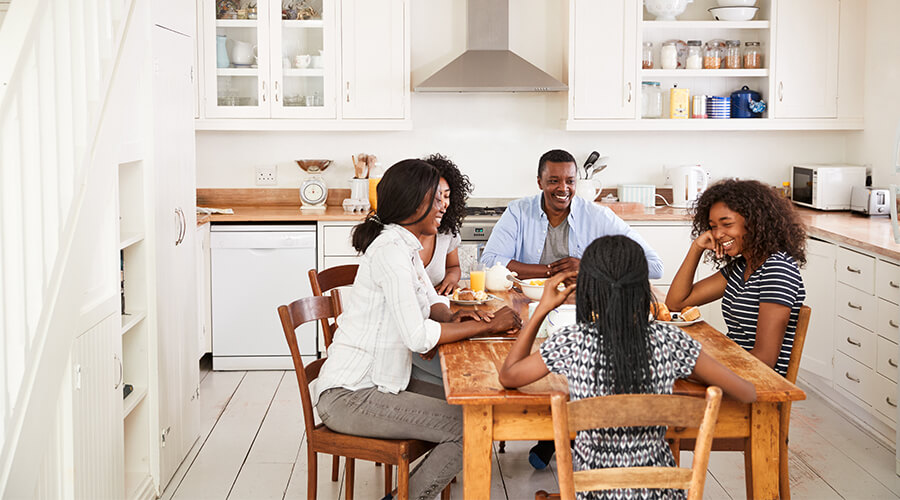 As the Pantone Color of the Year for 2020 is Classic Blue, it was only fair that an idea inspired by this made it into our guide to home improvement trends. Classic Blue, which is similar to a navy shade, is perfect for creating a super tranquil, relaxing atmosphere, making it an ideal scheme for a master bedroom. We suggest a master bedroom as opposed to a smaller space as darker colours can be known for absorbing natural light, which means it can enclose a small room. However, if you are set on incorporating this shade but you are limited with space, we recommend sticking to Classic Blue accessories. Consider the 60-30-10 rule mentioned above and use navy as your accent colour.
For those who are lucky enough to have a spacious master bedroom, then you can really get stuck into the Classic Blue colour scheme. A navy feature wall behind your bed creates a cosy atmosphere, particularly when paired with warm statement lighting and plenty of Classic Blue cushions or throws on the bed. Navy looks particularly striking when accompanied by brushed gold accessories and wooden furniture. If you're stuck for interior design inspiration, then both Homesthetics and Next Luxury have a whole host of beautiful designs – we guarantee that you will find one that you adore!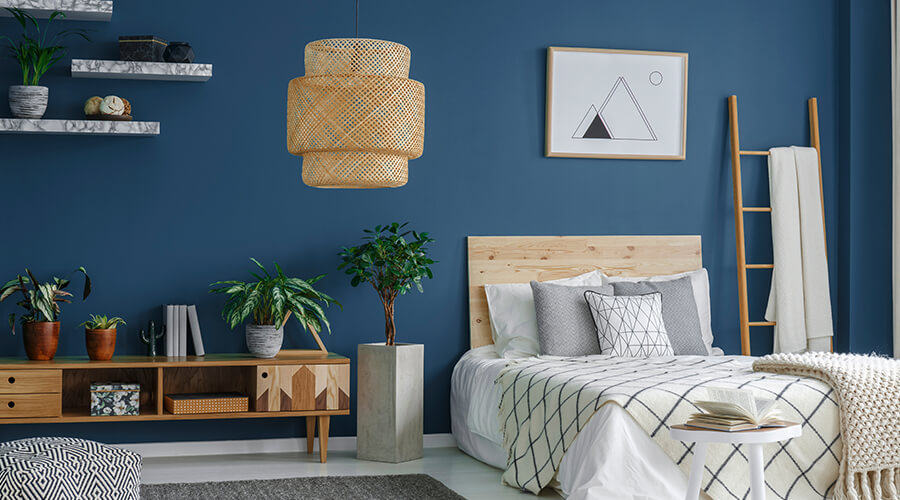 Many of the trends that we see each year, whether this may be home, fashion or even beauty, are those from the past that have resurfaced. Trends often complete a full circle, and our next home improvement idea is no different. Over the past few years, we have seen an enormous rise in the number of homeowners falling back in love with the charm of vintage aesthetics. From rustic dining tables and chairs to chesterfield sofas, there are a plethora of traditional-inspired designs which couldn't be easier to incorporate into your living room.
An excellent way to achieve the vintage feel without needing a significant budget is to try your hand at repurposing old furniture. Not only does this mean that you can give old items a second life, but it is also a productive way to keep you occupied during the lockdown. Wooden furniture, whether this may be a coffee table or drawers, are so easy to repurpose and give the perfect touch of shabby chic to your living room design. All you will need to do is thoroughly sand down the wood before applying a primer and eventually painting to your desired colour. Erin Spain has a great guide on her blog that walks you through each step towards painting furniture, which will make the process as straightforward as possible.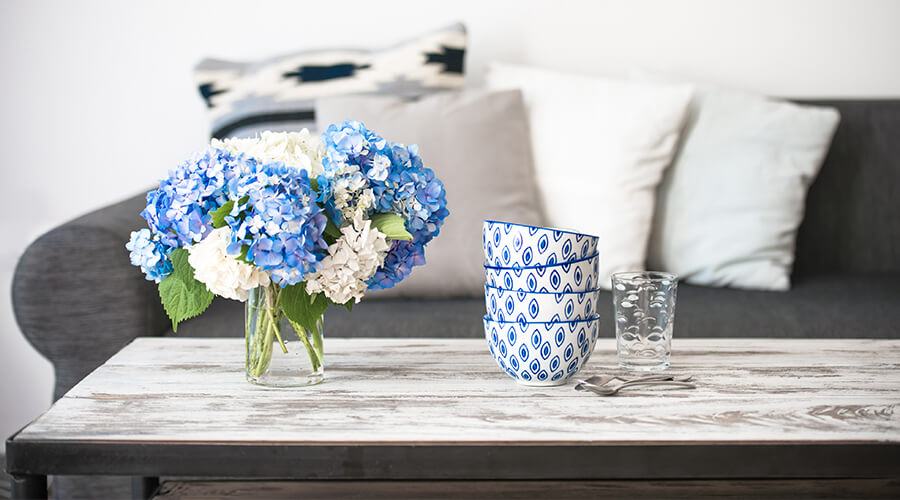 Since the beginning of the pandemic, our gardens have been used more than ever to enjoy the sunshine without venturing outside of the house. And now that the lockdown has eased slightly, they have become the only place that we can catch up with loved ones while sticking to social distancing guidelines. So what better way to improve your home than to create the perfect garden space for socialising?
The size of your garden will be the main contributing factors towards how you transform your space into the perfect hotspot for spending time with family and friends. Seating will always be your main priority; however, be sure to keep in mind whether your chosen seating arrangement can be altered to comply with the two-metre social distancing rules. Traditional garden table and chairs, benches or an outdoor sofa are all excellent ideas. Don't forget to ensure that every seating area is equipped with the ability to become shaded from the midday sun with an umbrella or even a pergola. Complete your space with outdoor fairy lights or lanterns for an area that is beautiful both day and night. For more ideas on how you can create a more sociable garden, take a look at Homify.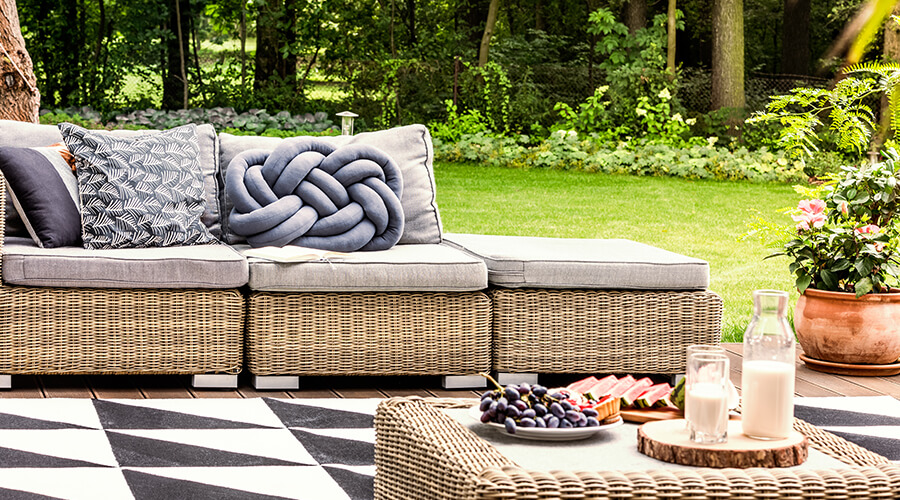 As mentioned previously, selling up and moving to a new property is becoming trickier every year, which means that most trends are based on how you can take advantage of your current property. One of the most common reasons why homeowners consider moving is down to lack of space, but many make this decision without first spending time experimenting with different home designs. In light of this, if you are one of the thousands faced with a home smaller than you'd hoped, why not try the micro house concept?
The micro house concept is popular across the globe from the compact apartments of New York to unique properties of Japan, meaning that we are actually one of the last countries to adopt this trend. It involves scaling back rooms to feature as little furniture as possible, allowing a clean and spacious environment. But how can you ensure that your home is still functional with less furniture? Well, in this instance, multi-purpose furniture and items that fold away will become your best friend. Your interior design will have to be smart, which while this does mean that it will take more planning, the creativity will most definitely work towards your advantage. Whether you opt for foldable sofa beds, coffee table storage units or an all-in-one entertainment unit, you will not be short for inspiration. Head over to Décor Aid for 15 cool examples of micro house designs!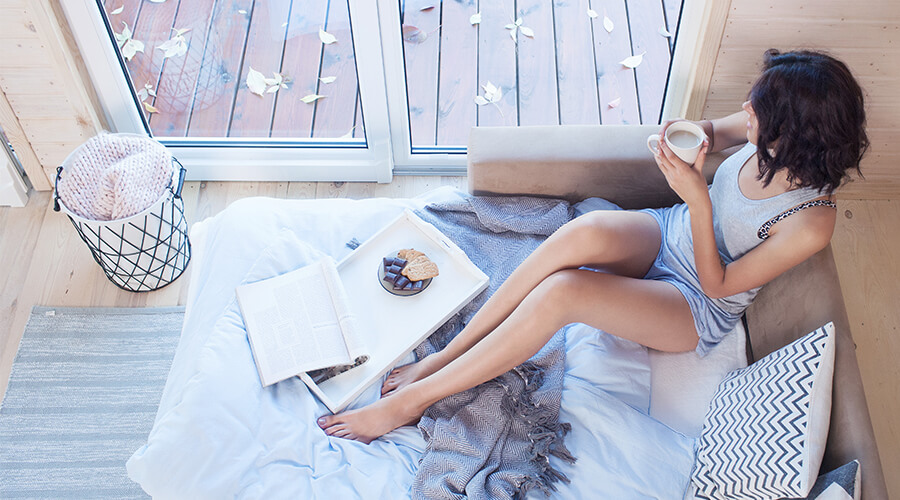 Transforming Your Home Is As Easy As That!
There is no better time to transform your home and create the perfect haven for your family than now, so why not get planning? The ideas in our guide to this year's trends are just some of the many ways that you can begin designing the home of your dreams, and we are always here for help. Our builders in Olney and the surrounding local areas are experts in project management, conversions and much more, so can assist every step of the way!