It's important that you always stay on top of tidy bedrooms because once you don't, they can quickly deteriorate and before you know it, you can't see the floor anymore.
Why Keep Tidy Bedrooms?
It's not a very nice feeling trying to get to sleep with the content of your bedroom in your bed. Clothes, books, magazines and any other of your favourite things are great, but not when they're strewn all over your floor. A clean and tidy bedroom equals to a clean, tidy and happy person. As well as this, the actual process of cleaning and decorating your bedroom can be quite therapeutic – although you may not think it.
It can be entertaining too, finding all of your old childhood achievements or your old favourite teddy bear that you used to sleep with religiously that got lost in the sea of clutter under your bed. You might need to clean out your current bedroom to move into a new room, if your having home extensions Buckingham and are moving into the new bedroom then you need to clean up your current one to make room for a spare bedroom. Or if you simply want to know how to keep on top of your room and find some hacks for a tidy bedroom, then continue reading. As we've devised a list of hacks for tidy bedrooms to ensure that you stay on top of your bedroom.
Utilise Under Bed Storage
If you have a bed that has a sizeable underneath, then use it! Purchase plastic storage boxes and store all of your prized possessions in them under your bed. Whether it be old school college or university work, medals or trophies or even just things you don't use anymore but don't want to part with, store it under your bed! Remember if you don't use it, you don't need it but if you cannot bear to part with it, then just put it into storage.
If you can find them, we recommend the deep plastic storage boxes with wheels as they're easy to manoeuvre and are easily accessible when you need them. Alternatively, you can purchase a bed that comes with its own storage. Take a look around different bed shops and find one with the correct amount of pullout storage suited for you.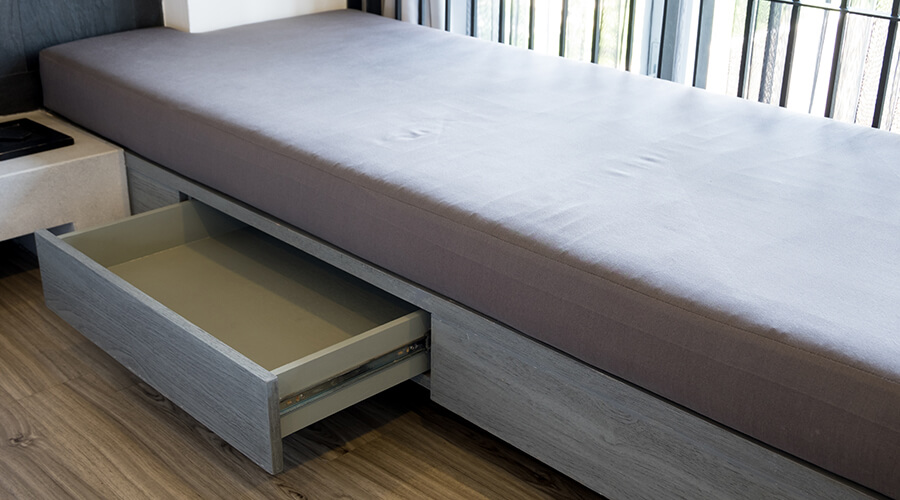 Shelving
Shelving ins the perfect storage solution for those that have smaller bedrooms. You can store thing higher up and out of the way, and if you want to hide those embarrassing figurine collections out of sight, then a high placed shelf can be the perfect storage option.
Wall shelving is available in a variety of different shapes, sizes and colours. We love these unique shelving units from Master Shelf. If you are struggling for inspiration on how to lay out your shelving units, take a look at these fantastic shelving designs!
Give Your Wardrobe A Deep Clean
When was the last time you had a deep cleanout of your old worn out clothes? You probably haven't ventured that deep into your wardrobe since you got it. Meaning that it's likely, you are going to pull out a few of your favourite old childhood t-shirts and who knows what else. The key to a tidy bedroom is an organised and well-kept wardrobe.
Get rid of all of the clothes that no longer fit you, or have holes in or are showing signs of wear. Split your wardrobe into sections containing trousers, t-shirts and shirts, skirts and dresses. That way it saves you time getting dressed in the morning and brings a sense of organisation back into your life.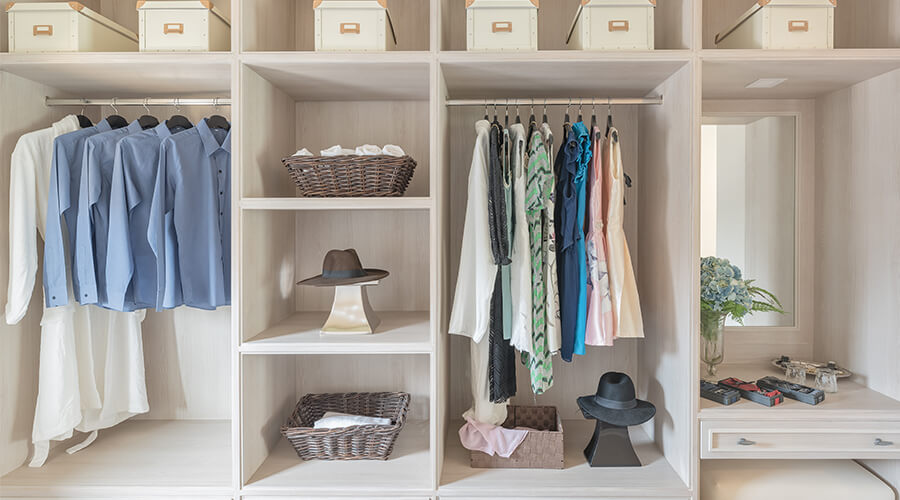 Make Your Bed Every Morning
It's the simple things. Just by making your bed every morning, you can improve the entire appearance of your bedroom. It restores a sense of order and makes it feel nicer when you get into bed after a long hard day. As well as this be sure to change your sheets and pillowcases regularly.
They can become clogged up with pollen, dust, beauty products and a whole lot of other grime when left for an extended period of time. So by changing your sheets regularly, you can have a relaxing, peaceful nights sleep.
Get A Shoe Rack
Although you may not think that your shoes are one of the biggest culprits of a messy bedroom, you are wrong. After a long day at work, you arrive home ready to jump into bed, your that tired you may not even take your shoes off and just kick them off before getting into bed. And over time this keeps happening and becomes a regular habit. And then you regularly have loose pairs of shoes around your bedroom which is not only messy, but mimics an obstacle course.
Prevent this from happening by buying a shoe rack; they are available in a variety of different sizes, shapes and colours to suit your home's decor and to fit perfectly in your room. If a shoe rack doesn't sound like your kind of thing, then like we mentioned earlier find a storage box for under your bed and store your shoes in there. Then they are all easily accessible and can be located in one place.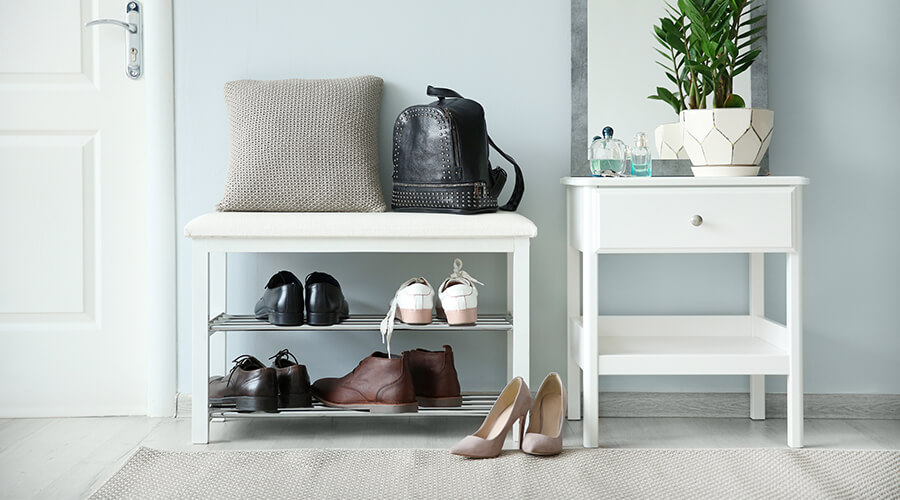 De-clutter All The Rubbish
And the main part is to get rid of all the clutter and rubbish that is taking up your room. Although you may be proud of your achievements over the years, do they really need to be on display in your room? And do you really need that chair in your room with no desk? Put everything in perspective and decide the difference between things you need, and the things that are just in your room as they have nowhere else to go.
Get cardboard boxes and put things you don't want to discard into storage, and any rubbish can go to the tip or in the bin.
Keep Your Bedroom Tidy!
So using these top tips, you can ensure that your bedroom is always tidy and free from clutter. If you aren't happy with your current bedroom and want to start fresh with a bigger living space, contact your local builders Milton Keynes who can give you advice on what to do next.
We hope that this article was helpful, if it was then why not share on social media?