Having a baby is one of the most precious experiences life has to offer, but like anything, it can be quite costly. Buying your little one clothes, toys, food and other essentials such as nappies will quickly make a dent in your bank account, so we understand how important it is to save money when possible. For this reason, we have made you a list of DIY nursery ideas on a budget which will give your baby a bespoke nursery for a minimal cost.
The best DIY nursery ideas on a budget
When designing your nursery, you can use a variety of DIY finishing touches to make it as personal as possible, but there are a few essential items all nurseries should have. For those of you that are working with a completely blank canvas, we have listed these essential items for you to ensure you are fully prepared for the day you bring your baby home.
Crib
Mattress/waterproof mattress cover
Bedding
Chaging table
Storage baskets
Chest of drawers
Rocking chair
Nightlight
Baby monitor
You can find most of these items from Mothercare or Mamas & Papas so you don't have to worry about wasting your valuable time vistings several shops to find the perfect product.
If you need to upsize for your adorable new arrival, our builders in Milton Keynes are more than happy to help. With years of experience in conversions, renovations and extensions, the dedicated team will be able to create the nursey space you have been envisioning.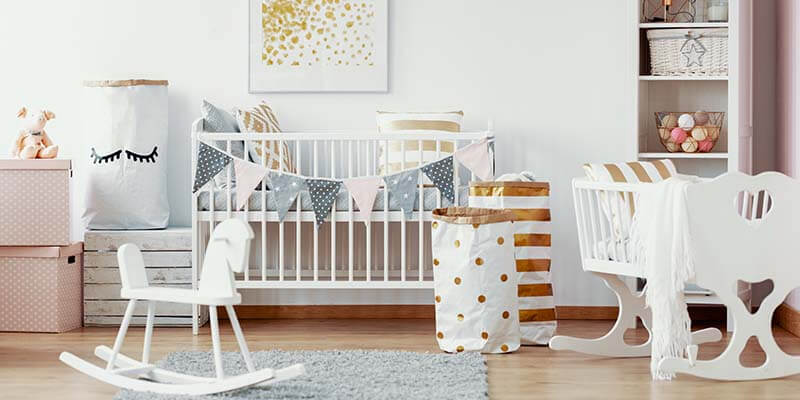 Cloud Mobile
Baby mobiles are a classic feature in any nursery, so why not give yours a personal touch by making it yourself? Mobiles are typically used in nurseries to provide visual stimulation for your baby, promote brain development and develop motor skills. With so many benefits for your baby, incorporating a mobile into your nursery design is a must. To make your own, you will need the following:
2 sheets of white felt
1 sheet of grey felt
1 sheet of black felt
1 sheet of blue felt
Cotton balls
Strong white thread
Strong black thread
Sewing needle
Knitting needle
Sharp fabric scissors
Safety pins
To make the clouds for your mobile, you can either draw them freehand if you are feeling artistic, or download a template here. You could also create raindrop stencils too. Once you have made and cut out your cloud templates, pin them onto two layered pieces of white felt. Individually pin each cloud together to prevent them from shifting while you sew. When sewing, stitch all the way around the edge of the cloud, making sure to leave a small portion open at the bottom. This space allows you to then fill the cloud with cotton balls and create a full, fluffy look. Overstuffing the clouds will work in your favour here as it prevents them from looking flimsy when sewn closed. Once you have finished sewing the cloud closed, tie a knot, push the needle into the stuffing and then out through the centre of the cloud. Next, cut the wool tight against the fabric as this enables you to leave a little length of wool without it showing.
Now, you can make the raindrops using your choice of black, grey or blue felt. Put two raindrop pieces together and use a blanket stitch to sew them together. Start sewing at the top point of the raindrop and work your way around until you get about an inch away from closing. Break apart some pieces of a cotton ball so that they can fit into the small opening, and stuff the raindrop. Once adequately stuffed, sew it closed. Then, using white thread, stitch the raindrops to the cloud.
For the hoop, you will want to start by tieing a bow to secure the wool – be cautious not to make a knot as you will want to untie it at the end. Once you are sure the bow is secure and will hold in place, begin wrapping the wool around the hoop, making sure to keep the loops taut and very close together. Keep the wrapped portion bound tightly as you work your way around the hoop. When you've made your way around the hoop once, untie the bow you made at the beginning and tie the two pieces of wool together in a tight knot.
With your fishing line, attach three pieces (around 36 inches long) at equidistant points on the hoop. Holding all 3 pieces of thread, tie a loose knot to join the threads together. To make sure the hoop is level, hover it over a horizontal surface and adjust the finishing line as necessary. Once you are satisfied that it is level, tighten the knot to set the angle permanently.
To add the clouds, once again use your fishing line and attach them to the same three points as mentioned above. Once all components are joined together, all that's left to do is hang it and watch your baby enjoy hours of entertainment under the clouds.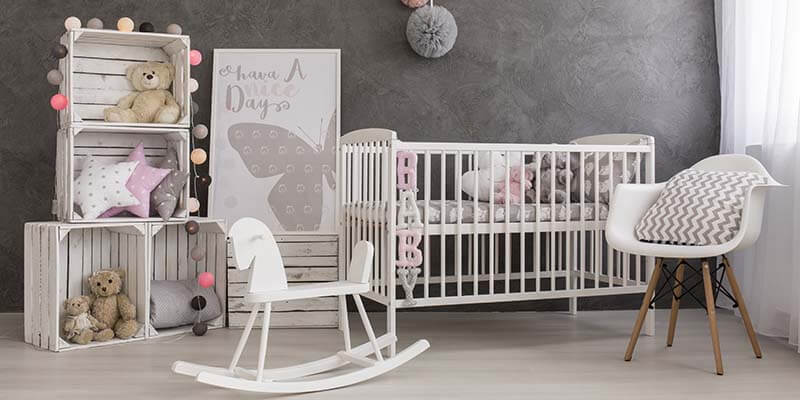 Scrabble Wall Tiles
Ever thought about transforming those small scrabble tiles into decorative wall art? Well, it's becoming an increasingly popular interior design trend, especially for nurseries. A lot of parents use this quirky design feature to spell out their baby's name, so to find out the point value of your child's name, look here. Once you have found out the value of each letter that you need, you can begin to make the tiles. You will need:
Printed out template of each letter and its scrabble value. Downloads can be found here.
A pencil
A thin paint brush
A wide paint brush
Begin making your scrabble wall tiles by cutting out your paper printout to fit your wood plaque. Then, using a pencil, heavily colour the outlines of the letters and numbers on the reverse of the printout. Next, tape the template to the piece of wood using low-tack tape an start to carefully trace the design. Your design should now be marked on the wood so you can paint it. We recommend leaving the paint to dry for at least 24 hours before applying two thin coats of Mod Podge gloss – make sure to leave around one hour drying time between each coat. This step is crucial as it seals the paint you have applied and adds the perfect shine to your scrabble tile.
Bedside Pom-Pom Rug
A small bedside rug is ideal for keeping your baby's delicate hands and feet off the cold, hard floor. Making it yourself means you can choose what colours to use so you can perfectly complement the rest of the decor. All you need for this cozy addition to your nursery is knitting wool (the size, texture and colours are entirely up to you!) two toilet rolls, scissors and an anti-slip rug mat.
The first step is to stick your fingers into the rolls and start wrapping the wool around both. Keep doing this until it gets to a size you are happy with and then cut another piece of string and weave it through both of the rolls, so it wraps around the entire thing. Then, tie it together and pull the rolls out. Once the ball of wool is separated from the toilet rolls, you can tie it even tighter together and make a knot. Make sure you don't cut off the excess string as you will need them when tieing the pom-pom to the rug mat. Now, with your scissors, cut through the loops around the whole pom-pom and trim around the edges, so they are roughly the same length. Keep doing this until you have enough pom-poms to cover your mat.
To attach them, use the long string you've left hanging a few steps earlier and tie them to the rug using slip knots – this is so you can move them around if needed. Once your rug is completely covered in pom-poms, that's it!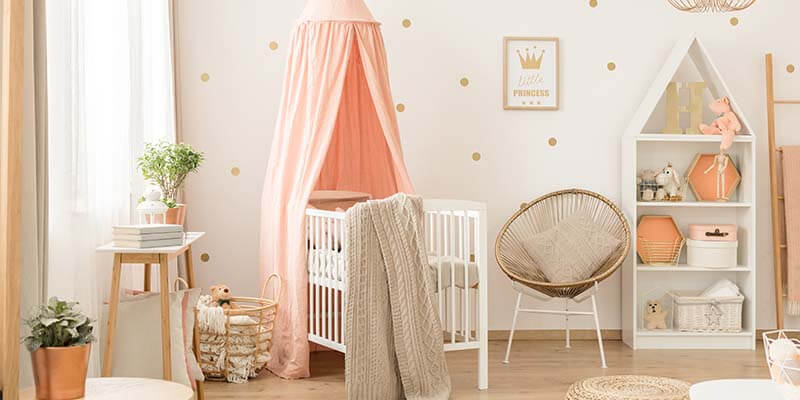 Story Book Wall Art
The illustrations in children's books are undeniably beautiful, so why not turn them into art by hanging them on the walls of your nursery? All you need to do for this design idea is to decide on a book with illustrations you like and will fit the theme on the nursery. Popular children's books with attractive illustrations include The Tale of Peter Rabbit, The Very Hungry Caterpillar and The Tiger Who Came To Tea. Once you have picked a suitable book, either take out every page, or a selection of your favourites, and frame them. The Range has a generous selection of budget-friendly photo frames you can use to create this unique wall art. After all the pictures have been framed, all that is left to do is hang them.
A little creativity for your little one
Making a completely unique nursery does not have to break the bank at all when using these innovative ideas. We hope we have inspired you to use your creativity and completely transform your room into a dreamy nursery for your baby. If you think your nursery still looks a little bare, why not create a magical ambience using paper lantern hot air balloons or a mini teepee covered in fairy lights?
If you need any assistance in creating a new space to accommodate for your nursery, please do not hesitate to contact us.